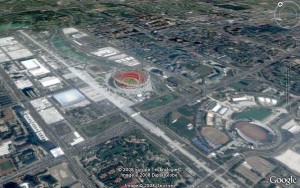 Knowing that the best 3d satellite view of earth is google earth, we have 3 websites which are used for 3d satellite view of earth which are as follows:
The first website : maps.google.com
this website provide all world maps with best quality . and it has also 3D maps in some countries and cities .
it's easy to use it .
the second website : www.flashearth.com
this website use flash player . it has also 3D maps and it has updated maps .
 you can use it if you haven't install google earth.
the thirth website : www.wikimapia.org
in my opinion this is the second website in the world that provide 3D maps of all world and it give you all information about all places .